Stockholm, Sweden
Cruises from Stockholm depart in the summer.
Spanning numerous islands in the Baltic Sea, Stockholm boasts a bevy of attractions within its waterfront setting. Wander the Old Town district, known as Gamla Stan, to see Stockholm Cathedral, the changing of the guard ceremony at the Royal Palace and the Vasa Museum, home to the world's only preserved 17th-century warship. Tours of City Hall reveal where Nobel Prizes are awarded, and a nearby museum delves into the history of this accolade and the laureates who have claimed it. Escape into nature with a cruise down the Djurgarden canal, or spot sea eagles on a kayaking exploration. The region is home to three UNESCO World Heritage Sites: Birka, an archeological outpost once ruled by Vikings; the Woodland Cemetery, with its remarkable landscape architecture; and Drottningholm Palace, the private residence of the country's royal family.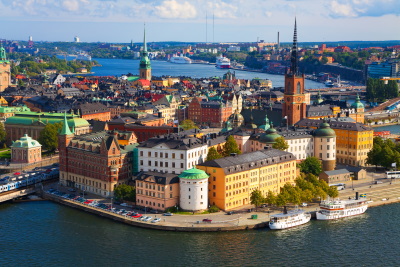 Language: Swedish
Currency: Swedish Krona (SEK)
Driving Directions and Parking Information
Freeport Cruise Terminal
115 41 Stockholm, Sweden
Driving from Stockholm Arlanda International Airport: Follow the signs "E4 Stockholm", when you get close to the North area of Stockholm you follow the signs with a symbol of a ship on to Frihamnen. The port is better known as Värtahamnen but the official name is Frihamnen. Upon entering the cruise port the ships docked at Frihamnen will be on your right and the ships docked at Vartahamnen will be on your left.
Stockholm, Sweden Weather
Jan
Feb
Mar
Apr
May
Jun
Jul
Aug
Sep
Oct
Nov
Dec
High
31
31
37
47
60
67
70
68
58
48
39
32
Low
22
20
26
31
41
49
54
53
45
38
31
23
Jan
Feb
Mar
Apr
May
Jun
Jul
Aug
Sep
Oct
Nov
Dec
High
-1
-1
3
8
16
19
21
20
14
9
4
0
Low
-6
-7
-3
-1
5
9
12
12
7
3
-1
-5
Jan
Feb
Mar
Apr
May
Jun
Jul
Aug
Sep
Oct
Nov
Dec
Days
25
20
21
20
17
18
20
19
20
20
23
25
Jan
Feb
Mar
Apr
May
Jun
Jul
Aug
Sep
Oct
Nov
Dec
Percent
89
91
91
86
75
74
79
87
91
92
91
91